When your dog hears the car keys jingling in your hand, they may run to the front door filled with excitement for a potential car ride. Or, your dog might run the other direction, fearing another trip to the vet. In either situation, both you and your furry friend want the same thing: to get your dog into the car safely and easily.     
Dog owners drive a multitude of vehicles like sedans, SUVs, vans, or trucks, so no trip is exactly the same. There are solutions available that will help your dog safely access your vehicle, whether it be a pet ramp or collapsable stairs. However, the efficacy of either solution varies on both the vehicle and where the dog will be entering. Pet ramps and stairs are usually shown in use on the back of SUVs or vans, yet this is not feasible for every dog owner. Suppose the back of your SUV needs to stay stocked with camping equipment, your sedan only has a trunk, or you don't feel safe having your dog ride in the bed of your pickup truck. In these cases, and many others, your dog needs to be able to safely enter through the side doors of your vehicle. 
What approach is best?
Both pet ramps and stairs can aid your dog in safely reaching the backseat of your vehicle through the side doors. However, each has its own benefits. So which one is better?
Portable Pet Stairs 
Most collapsible stairs for pets consist of an articulated metal frame with stair treads topped with rubber, canvas, or grit tape. They are constructed this way so that the steps can extend into a small staircase and also fold down into a much smaller form for storage. The stairs can make it easier for your dog to enter a vehicle so they do not have to jump all the way into the car, but some dogs are also resistant to using stairs in general or are unable to use them due to arthritis, hip dysplasia, or other conditions.
Depending on the model, adjustability can vary. Some collapsible steps, like the Zerria Extra Wide Dog Car Stairs, have about a 6-inch range in height adjustability, while others may only have about 1 inch of adjustability. This means that the height of the stairs may not be sufficient for certain car makes and models, especially taller vehicles like SUVs and trucks. There is also the added height of the backseat to consider when it comes to side door entry, which will have a higher rise than the vehicle floor when entering through the rear.
In order to create a sturdy structure for your dog to walk on, most portable pet stairs have two protruding handles that rest on the floor or seat (if it can each) of your vehicle. Most models also include a hook that can be clipped to the trunk of your car for extra stability. As you can probably guess, this hook is deemed useless for side door entry. 
Portable Dog Ramps
While dog ramps differ in construction, they all have the same goal: to help your dog in and out of your vehicle. The ramps will have different lengths, widths, and surfaces and could be folding or telescoping. 
To use a pet ramp on your car, truck, SUV, or van, simply rest the top of the ramp on the floor or seat of your vehicle. The ideal ramp length for your dog will really depend on the rise of your vehicle as well as your dog's abilities. Taller vehicles and dogs that struggle with walking will benefit from a longer ramp that can provide a more gentle slope. Whether the dog ramp is folding or telescoping, it can be stored at about half its size to maximize the storage space in your vehicle.
Unlike portable pet stairs, pet ramps can serve a wide variety of heights because they simply lean against the rise rather than needing to measure up exactly. Dog ramps also provide a more solid walking surface than portable pet stairs. This is especially ideal for dogs that are resistant to or unable to use stairs. When it comes to side entry into your vehicle, dog ramps are able to securely rest on the back seat and also have side entry accessory options that portable stairs do not. 
In conclusion, both portable pet stairs and pet ramps boast their own features, but pet ramps will most often be the ideal transportation solution: 
Portable Pet Stairs 
Usually more lightweight than most ramps.

Collapsible for compact storage. 

Some dogs are resistant or unable to use stairs. 

Has only a slightly adjustable height. 

Not as sturdy as pet ramp options. 
Pet Ramps
More gentle slope, ideal for dogs with arthritis or hip dysplasia. 

Exceptional sturdy and can support large and heavy dogs. 

Can be used on vehicles as well as furniture and stairs. 

Non-slip walking surface. 

Ideal for side-entry into vehicles.  
When it comes to helping your dog access the backseat of your car, SUV, or truck, pet ramps will be the best option in most situations. 
What is the Best Dog Ramp for Side Door Entry?
There are a plethora of dog ramps on the market, so it can be a bit challenging to decide which one will work best for side entry. In another blog post, we've determined through our research that folding ramps are most often the best overall choice compared to telescoping ramps or folding stairs. That narrows it down a bit, but there are still many folding dog ramps to choose from. While most folding dog ramps are versatile in that they can be used with vehicles, furniture, or over stairs, only some are equipped to safely access the backseat of your vehicle through the side door. Two of the most popular dog ramps and accompanying side entry accessories are outlined below. 
PetSafe Folding Pet Ramp + Side Door Adapter 
The PetSafe Happy Ride Folding Pet Ramp is constructed of plastic and measures 62"L x 16"W. The ramp is a grit surface, which does provide some traction, but many customers have said that their dogs have actually slipped down the surface because their paws were not able to grip it properly. PetSafe sells replacement grit treads for the ramp, as the grit surface can become damaged over time. The PetSafe ramp has a weight capacity of 150lbs, but some dog owners have noted that the ramp cannot support their large dogs, even when the dogs weigh less than 150 lbs. Since it is a folding ramp, there have been some instances where the ramp has broken in half when used by a larger dog.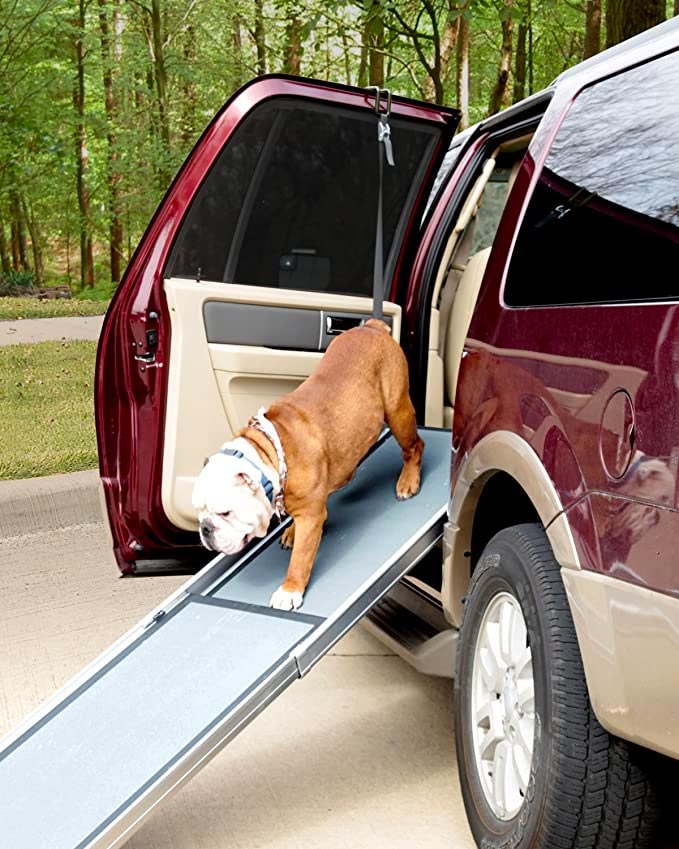 For safe side entry into your vehicle, PetSafe has developed the Solvit Side Door Ramp Adapter. The adapter ships in four pieces: door hook, nylon strap, strap clip, and ramp clip. To use, the adapter must first be assembled. The door hook is placed over the top of your side door, but some customers have noted that the hook does not fit some SUV models and also may scratch the paint of the vehicle. The door hook and ramp clip are connected by the nylon strap. The ramp clip attaches to the side of the PetSafe ramp to help hold it in place while it is resting on the backseat of your vehicle. Because there isn't a specific slot for the ramp clip to be secured to, the clip has been known to slip off of the ramp when in use, rendering it useless. Since the purpose of the side door ramp adapter is to hold to ramp steady on the backseat through the side door, it may not be the best choice for very large dogs that will need the most support.
In conclusion, the PetSafe folding dog ramp and side door adaptor have some pros and cons: 
Pros
Can support small to medium-sized dogs

Side door adapter has an adjustable strap. 

Costs a bit less than other options. 
Cons
Side door adaptor doesn't work with all vehicles and may scratch door paint. 

Not sturdy enough for large dogs to use the ramp for side entry. 

The plastic side door adaptor can slide off of the ramp. 

Grit surface lacks traction and may need replacement. 
PetStep Folding Pet Ramp + Side Entry Support Strap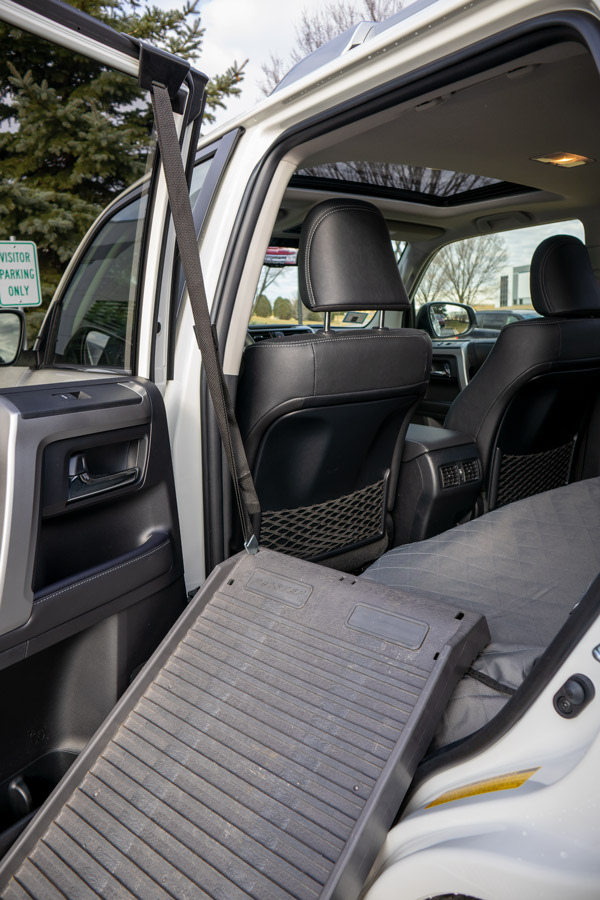 The PetStep Folding Pet Ramp is one of the largest ramps on the market measuring 70"L x 17"W. The ramp also features an industry-leading weight capacity of 500 lbs. With those specs, the ramp is especially ideal for large dogs as well as dogs that suffer from arthritis and hip dysplasia. The surface of the ramp is a rubberized tread that allows dogs to naturally dig into the material while walking. The rubber surface is resistant to weather conditions like rain and snow and will not need to be replaced.
For safe side-door entry into your vehicle, PetStep has developed the Side Entry Support Strap. The accessory arrives in one complete piece with a rubber-coated steel door hook on one end and a metal hook that secures into the PetStep ramp on the other. Both hooks are connected by a heavy-duty adjustable nylon strap. The door hook fits all vehicle makes and models, whether it be a sedan, SUV, or truck, and the rubber coating prevents any scratches to your vehicle. 
At the top of the PetStep folding ramp (and the HalfStep!) there is a slot for the metal hook at the opposite end of the side entry strap. The hook fastens into the slot so that it remains secure while the ramp is in use. The nylon strap is adjustable so that the side entry strap can serve a wide range of door opening heights. When secured in place, the side entry strap keeps the PetStep stable even when a corner of the ramp is protruding off the side of your backseat. 
As the ideal solution for your dog to enter your car through the side door, the PetStep ramp and side entry support strap have their pros and a few cons: 
Pros
Ramp is sturdy and supports dogs of all sizes and weights. 

The surface is non-slip, weather-resistant, and designed for paws. 

The adjustable side entry support strap securely hooks into the ramp.

The car door hook fits all vehicles and won't scratch door paint.  
Cons
A bit more expensive than the other side door entry options. 

A few pounds heavier than some other options. 
Making Car Travel Safe and Easy 
At the end of the day, your biggest concern will always be your dog's safety. That is why it is important to choose the transportation solution that will work best for you, your dog, and your vehicle. With the information and solutions presented above, car travel will no longer be a hassle!
"There's nothing better than the feeling of wind in your fur! Clearly, the best place to stick your head out the window is from the backseat. Good thing the PetStep ramp and side entry support strap can get me there safely!"