Regardless of whether you're purchasing a gift for the holidays, a birthday, or just because, you always want your gift to be personal, high-quality, and memorable. Selecting the perfect present for the dogs or dog lovers in your life can be difficult as both online and brick-and-mortar pet stores are filled with toys, accessories, and supplies. We've developed a comprehensive list of gifts that will make both human and canine hearts gleam with joy.  
For the Active Dogs and Humans
These dogs and their humans can be described as duos that are always on the go. These pups always seem to have energy and leap at any mention of the word "walk." The gifts below are perfect for dogs and humans alike who love traveling and the great outdoors.
Collapsible Travel Bowls
Going out for long walks or hikes can cause pups to become dehydrated, especially if it is a warm day. The best way to end a walk is by lapping up a cool bowl of water. These collapsible travel bowls are perfect for adventurous dogs that love to spend their days running and exploring new places. Since the bowls are made of silicone, they can conveniently fold up into a flat circle shape for easy storage and transportation. Just throw it in your bag and go! Available here.
Mobile Dog Pet Travel Bag
Dog lovers who enjoy traveling and weekends away will surely want to bring their pup on the adventure. This travel tote bag has space for anything a dog might need while on vacation or traveling. There are travel bowls, zippered pockets, a luggage tag, and lined carriers for transporting food or treats. This travel bag will make packing for your pet a breeze! Available here.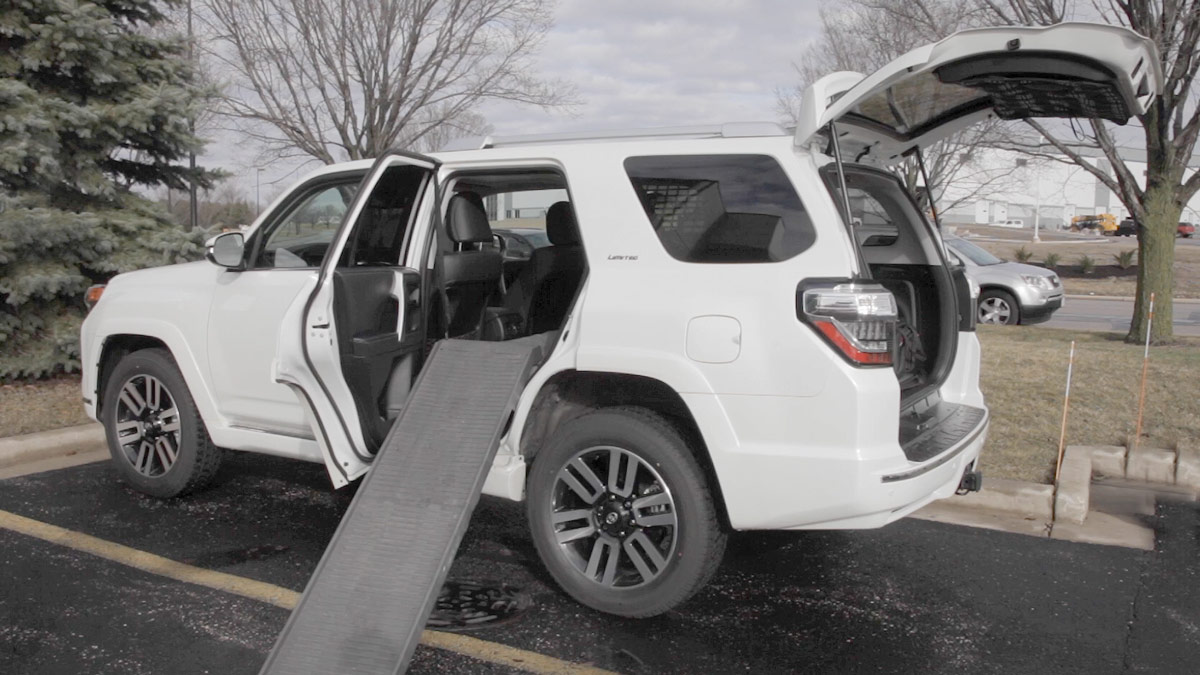 PetStep Ramp 
Active people and their furry friends always have the next destination in mind. However, it may not always be easy or safe for their pups to jump into their vehicle, especially if it is a truck or SUV. The folding PetStep ramp is the perfect gift for anyone who likes to travel or go for car rides with their dog. It is also perfect for pups who struggle to jump into the car like small breeds, older dogs, and dogs that have arthritis or hip dysplasia. The non-slip grip of the PetStep ramp fits any vehicle edge including sedans, SUVs, vans, and trucks. For extra stability and entry options, we also recommend the side entry support strap accessory. The PetStep ramp has a 5-year warranty, which is one of the longest in the pet industry. Available here.
For the Playful Pup
These lively pups can make a toy out of almost anything. They love active games like fetch or tug of war and can also enjoy themselves while chewing a bone or dismantling a stuffed toy. Hopefully, these gifts will occupy these dogs enough so they don't chew on their human's slippers!
Silent Squeak Dog Toys
Those who have a playful pup understand the constant screech of squeaky toys. The TrustyPup silent squeak dog toys can give your loved one's ears a rest while their dog is playing. The silent squeak toys feature an ultrasonic squeaker that only dogs can hear and are imperceptible to human ears. This means the dogs can fully enjoy playtime without irritating their human's ears with loud squeaks. A worthy note, however, is that while these toys may satisfy a pup's urge to create squeaks, they won't hold up to heavy chewers. Available here.
Bark Super Chewer Toys 
While the silent squeak toys listed above may not be ideal for heavy chewers, the Bark Super Chewer toys can withstand even the fiercest chewers. Made of durable natural rubber, the super chewer toys are available in a plethora of different colors, shapes, and themes. Some toys are also treat-dispensing while others feature a soft outer shell that the playful pup can enjoy shredding before getting to the durable rubber toy. If your loved one's pup loves to chew, this is the perfect gift! Available here.
Interactive Wicked Ball
Play-loving dogs have probably experienced most kinds of toys from stuffed animals, to bones, fetch toys, and more. The Cheerble Wicked Ball adds another element to playtime with automatic moving features. The USB-chargeable ball moves on its own so dogs can chase after it for a more interactive experience. It is important to note that this toy is not for aggressive chewers, so you may want to skip this if you or your loved one's dog loves to destroy their toys. But if you or your loved one's pup loves to play fetch, this toy is a unique and play-satisfying choice. Available here.
For the Work-from-Home Dog 
While their humans may have to work a 9-5, these hard-working dogs stay home alone for prolonged periods of time satisfying their security shifts at the house. Some work-from-home dogs may spend most of their day playing with toys while others enjoy taking a long nap or looking out the window at squirrels. No matter their daily routine, these gifts are perfect for dogs that stay home alone while their humans are at work.
Furbo Dog Camera 
The Furbo dog camera is a 360-degree camera that connects to your phone so you can check in on your dog at home while you are on the go. This can be especially perfect for dogs that experience separation anxiety because the Furbo allows you to talk to your pup through the camera and even send them a treat. The Furbo also sends barking alerts to your phone so you can be aware of any time your dog may be upset. This gift allows humans to be connected with their beloved pups even when they are away from home! Available here.
"The Game" by Fable Pets is an interactive toy that both feeds and exercises your pet. The toy can hold up to 1.5 cups of food so you can give your dog an entire meal through the toy. It features different complexities to make it easier or harder for your dog to get the kibble from the toy. This gift is perfect for work-from-home dogs because it gives them something fun and interactive to do while their humans are gone. Available here.
Smart Pet Love Snuggle Puppy
This gift is especially perfect for your loved ones who have just adopted puppies and cannot spend most of their day with their new pup. The snuggle puppy aims to reduce anxiety and loneliness in puppies by mimicking a warm companion complete with a beating heart. The snuggle puppy comes with a heating pad and batteries to operate the beating heart. Leaving a new puppy at home can be tough, but the snuggle puppy can help make those days less lonely for your pup. Available here.
For the Water-Loving Dog 
These dogs might as well have gills for how much they enjoy being in the water! The gifts below are perfect for dogs and humans who love swimming or just chilling at the pool.
Dog Float Raft
This dog float raft is an inflatable pool raft intended for canine use. If you or your loved one's pup enjoys water, this pool float lets the pups take a break from swimming. Even if your dog doesn't like swimming, the float raft can allow your pup to enjoy the water from a safe distance. Just remember to always supervise your dogs when using the raft! The durable fabric resists tearing from your dog's nails and can support small to large breeds in the water. When not in use, the pool raft folds down into a reusable bag. Available here.
PetStep Pool Ramp Bundle 
The PetStep pool ramp bundle is the ideal gift for dogs and humans who love to swim. The ramp and included pool legs make it safe and easy for pups to access pools. It is also perfect for dogs who are becoming more comfortable with swimming and humans who want to enjoy the pool with their dogs! The anti-slip grip of the PetStep ramp fits stably on both above-ground and below-ground pool edges. The rubberized non-slip traction surface of the PetStep ramp allows dogs to naturally dig into the material when walking, and they won't slip even on the parts of the ramp that are underwater. When not using the ramp or when pool season is over, the pool legs easily detach from the ramp and the ramp conveniently folds up for storage. As mentioned earlier, the PetStep has a 5-year warranty. Available here.
Foldable Doggie Swimming Pool
This doggie swimming pool is perfect for the dog and human duos who don't have an above or below-ground pool. The pool is constructed of PVC with reinforced edges and all you have to do to fill up the pool is unfold it and put a hose in the pool for it to fill and take shape. The pool is suitable for dogs of all sizes, but smaller breeds may need a little help getting over the edge of the doggie pool. This is perfect for dogs that love water and don't already have a pool as well as dogs that want somewhere to cool off when playing outside. Available here.
Quality Gifts for Every Pup! 
At PetStep, pets are our business. It is our goal to provide you and your pup with high-quality products that improve your dog's daily life. The gifts mentioned above are favorites of our PetStep team and are recommended based on their uniqueness and positive reviews. We hope this list helped you figure out what to get the dogs and dog lovers in your life for any occasion!